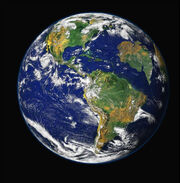 Earth Prime is the Primary Location/ Nexus point of the Universal experiment. There are multiple earths in the Universe created by the entity however Earth Prime is the first Earth created.
Section heading
Edit
Earth prime is a modified version of the 'Real world' earth as of August 2012. It was duplicated and placed in the Universe the entity had crafted and then modified over the course of a week(see the Warping Week).Earth Prime, Like 'real world' Planet Earth is the third planet from the Sun, and the densest and fifth-largest of the eight planets in Solar System Alpha, which is a modified duplicate of the 'real world' Solar System. It is also the largest of the Solar System's four terrestrial planets.
Major Geographical Modifications include:
Transforming the planet into a Hollow Earth type planet
30% overall increase in Planetary Mass
Creation of a new continent
Section heading
Edit
Write the second section of your page here.